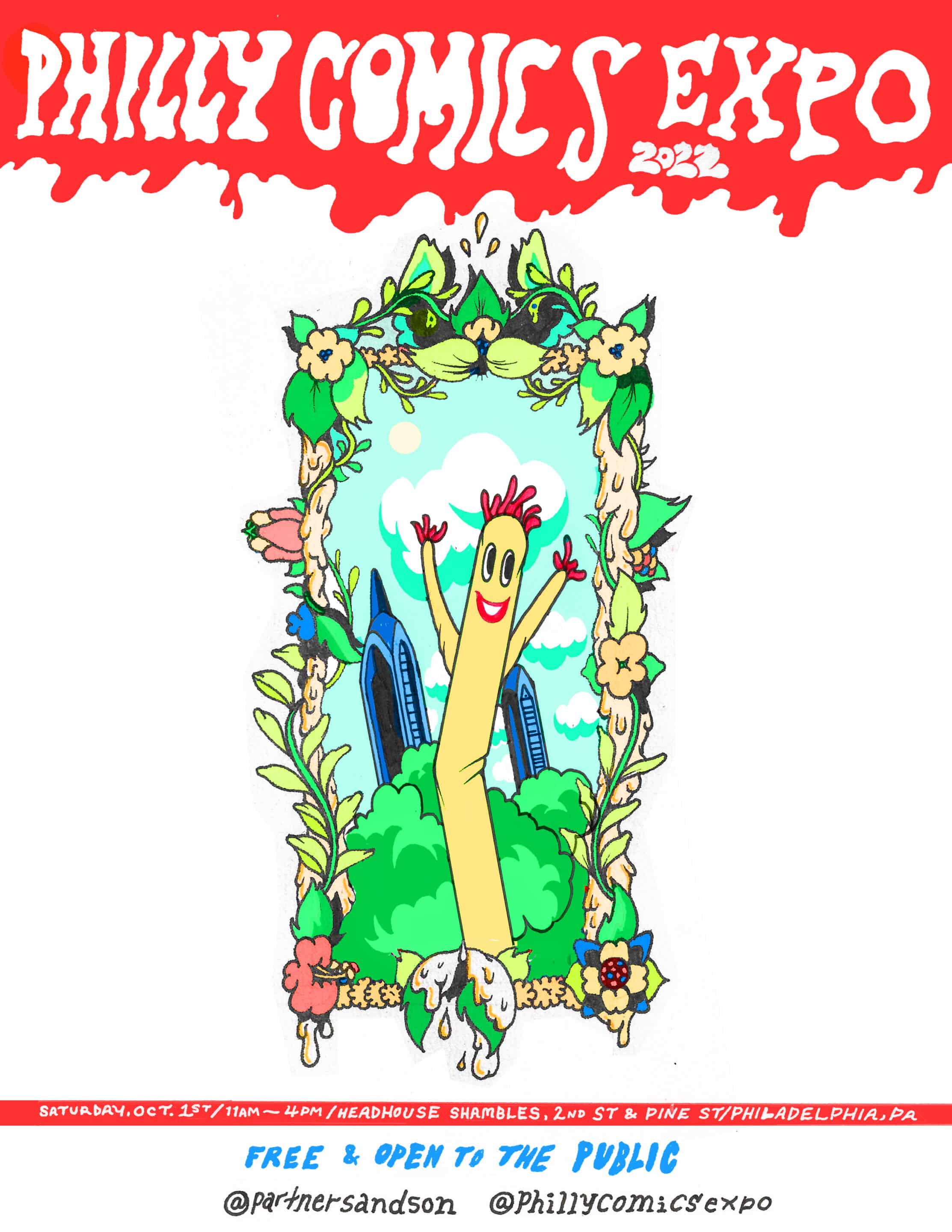 Philly Comics Expo — Presented by Partners and Son
When: Saturday, October 1st, 11am – 4pm
Where: Headhouse Shambles, 2nd and Pine
Join us for the second annual Philly Comics Expo! Partners and Son is thrilled to present this free outdoor event of comics and art! Over 90 artists, many local, will be tabling at the historic Headhouse Shambles at 2nd & Pine Street from 11am-4pm on October 1st.
PCX is back and even bigger! Indie cartoonists and publishers from Philly and all over the US will be selling zines, books, prints and more right around the corner from South Street Fest
Featured Artists

Aaron Shattuck
Alexander Laird
Alexander Rothman
Alli Katz
Ana Woulfe
Andrew Jeffrey Wright
Andrew White
Angela Fanche
Anna McGlynn
Anuj Shrestha
AT Pratt
Austin English
Beehive Books
Ben Miller
Beth Heinly
Box Brown
Bubbles Zine
Christian Patchell
Christine Larsen
Clown Kisses Press
Maria Hoey (Coin-Op Books)
Corey Bechelli
Cram Books
Derrick Jones
Dirty Diamonds
Dog Bowl Zine
Domino Books
Dre Gregapol
Eileen Echikson
Entropy Editions
Eric Hinkley
Evan Salazar
Floyd Tangeman / Deadcrow Publishing
Frances Cordelia Beaver
Hannah Greene
Hannah Kaplan
Heather Loase
Henri Dumas
Henry Crane
Ian Harker
James Church (Immortal Dark)
Jackie Kirby
James Michael
Jason Roy
Jaz Malone
Jean Wei
Karl Stevens
Katie Fricasse
Kelechi Azuakoemu
Logan DeCarme
Luca Bokulich
Matt Madden
Matthew Thurber
Max Huffman
Meghan Turbitt
Melissa Lomax
Mike Kamison
Nate Garcia
Nicholas Forker
Nicole Rodrigues
Nora Einbender-Luks
Oli Knowles
Olivia Fredericks
Paige Mehrer
Pam Price
Pat Aulisio
Pat Higgins
Patricia Poteat
Peow Studio
Pet Riso
Philly Bookstore Map
Pig Roast Publishing
Priscilla Genet
Random Man Editions
Reptile House Comics
Robert Sergel
Rodger Binyone
Rust Belt Review
Sally Madden
Salvatore Marrone
Sanika Phawde
Sara Lautman
Sequential Philly
Steve Arnold
Steve Teare
Steven Williams
Tia Roxae
Tracy Chahwan
Ulises
Unlimited Bottle Service
Victoria Douglas
Who Press'd Press
Will Laren
Worthy Tales Magazine
Zach Vaupen
Come for the comics, stay for the comics!
Follow the South Street Headhouse District on Facebook, Instagram, and Twitter for more community events!
---
Disclaimer:
This event is not produced by the South Street Headhouse District (SSHD) but is shared on our Website Calendar where events occurring within our district are featured. Please contact the event organizer for questions.